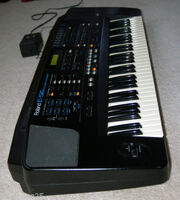 E-56 INTELLIGENT SYNTHESIZER
KEYBOARD: 61 Keys, Velocity Sensitive
SOUND SOURCE SYSTEM: New Sound Source with TVF (GM/GS Format).
MAXIMUM POLYPHONY: 28 Notes.
BUILT-IN-EFFECTS: Digital Reverb and Chorus
SWITCHES AND CONTROLS
VOLUME: Master Control Volume
BALANCE: Volume Balance For Upper, Lower, Accompaniment, Bass, Drums, Sound Effects. 
KEYBOARD MODES: Upper, Melody Intelligence, Lower+Lower Hold, Manual Bass, Arranger+Arranger Hold, Chord Intelligence, Manual Drums, Sound Effects.
COMPOSER: Digital recorder For 3 Songs 6 tracks (Upper, Lower, Manual Drums, Sound Effects) 6 Controls (Reck/Punch In, Play, Play Track Select, Write, Track Erase).
MUSIC STYLE: 64 Music Styles: Bank 1-7, Number 1-8, Style Variation, Demo, Card, One Touch Program, Slot for Style Card, (TN-SC2 Series), or Memory Card (M256E).
TONE/USER PROGRAM: 226 Tones, 9 Drum Sets, Tone-Group A/B, Bank 1-8, Number 1-8, Variation, 64 User Programs with Down/Up and Cancel (Arranger/Tone)Controls.
OTHER REAL TIME SWITCHES: Sound Effects (8 "Pads" + Hold), Fade In/Out, Sync Start/Stop, Acc Bass Revolving, Arranger Advanced, Fill In (To Variation/To Original), Break Mute, Intro/Ending, Start/Stop, Reset/Tap Tempo, Tempo (Visual Metronome), Octave Down/Up, Transposer.
DISPLAY: 20 Digit x 2 lines (Back-lit and with contrast regulation).
REAR PANEL TERMINAL: Phones, On / Off Switch,Output Sockets (L/Mono, R),MIDI Sockets (IN,OUT,THRU), Socket for Optional Footswich, LCD Contrast Regulation.
AMPLIFICATION: 5W + 5W (Stereo), 2 x 12 cm. speakers.
POWER SUPPLY: External AC/DC adaptor (type ACJ) (12V/2 Amp).
DIMENSIONS: 1070(W) x 395(D) x 130(H) mm.
WEIGHT: 10,8 Kg. E-56) 1,2 Kg. (ACJ Adaptor)
OPTIONS: Sustain Pedal DP2 / DP6) Music Style Cards (TN-SC2 Series)  Memory Cards (M-256 E) Stands (KS-8 / KS-12) Dynamic MIDI Pedal (PK-5) Headphones (RH-20/80/120)